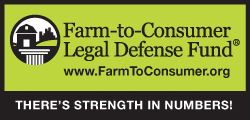 If you are SERIOUS about protecting your FOOD FREEDOM, then this is the place to start!
The Farm-to Consumer Legal Defense Fund is a non-profit organization concerned with protecting your food freedom and the rights of family farms. By supporting this organization, consumers gain access to raw milk and other nutrient dense foods.
As stated on their website:
"The FTCLDF protects the rights of the nation's family farms, artisan food producers, consumers and affiliate communities to engage in direct commerce free of harassment by federal, state and local government interference; it protects the rights of farmers and artisanal producers to make their products available and the rights of consumers to access the foods of their choice from the source of their choice. Read more about our mission.

FTCLDF is a true grassroots organization and receives no government funding and little or no corporate funding. Our main sources of revenue are membership fees, individual donations and grants for public interest litigation from our sister organization, the Farm-to-Consumer Foundation a 501 (c )(3). Give us a call if you have questions about our funding."
You don't have to be a farmer to be a member! You can support this cause as a consumer too!
Although, as a farmer, I would definitely consider being a member due to the ever-changing laws that farmers must face, not to mention the cost alone of attorney consultations.
As a member you obtain unlimited consultation with attorneys on matters within its mission statement and access to a a toll-free emergency hotline if there are surprise visits or inspections from a government agency. These are just a FEW of the benefits to give you an idea of the worth that a membership could give.
Share this information with your local farmers and like-minded consumers! Let's help support our food freedom, we must be pro-active to continue to have any freedom!